I am honored to partner with Foster Farms to bring you this super easy Almond Chicken Recipe!  I have been compensated to give my honest opinion of the Foster Farms Crispy Strips product.
I am a long time lover of Foster Farms!  I have to say that they are one of our "go to" pre cooked foods for when time is at a minimum.  I love that they are hormone AND Steroid free too because with teen girls, we have enough hormones flying around here, thank you!  LOL  I also love their humane treatment of their chickens. 
Yes,  pre cooked Chicken Foods can be thrown into the oven just as they are BUT they can also be made into a super simple yet elegant meal in minutes!  Some days I just need that this is what I created a week or so ago when I was craving Chinese food.
Easy Almond Chicken Recipe
Ingredients:
Foster Farms Crispy Chicken Strips (they have Gluten Free Now!)

4 tablespoons cornstarch

3 tablespoons water

3 cups chicken broth

3 tablespoons butter

2 teaspoons soy sauce

chopped or sliced Almonds
Directions:
Heat Chicken Strips according to package directions.
Make Gravy:
In a sauce pan mix together Chicken Broth, Butter and Soy Sauce.  Bring to a simmer. 
While that is getting up to simmer, mix together Cornstarch and 3 Tbls. water
Now slowly add mixture to Chicken Broth and whisk.  Keep stirring until mixed thoroughly.  The gravy will begin thickening right away. 
Stir until you have the thickness you like.  If you want a thicker gravy then you can just mix a little more Cornstarch and Water and add.  Make sure it's just a little though or you will end up with a clumpy mess.
Remove Chicken from oven and place on a plate.  Pour gravy over Chicken and add Almonds.
That is it my friends.  This is a deelish and  a super easy way to turn simple Foster Farms Crispy Chicken into a yummy Chinese/American meal! 
Serve with rice and a veggie!  YUM!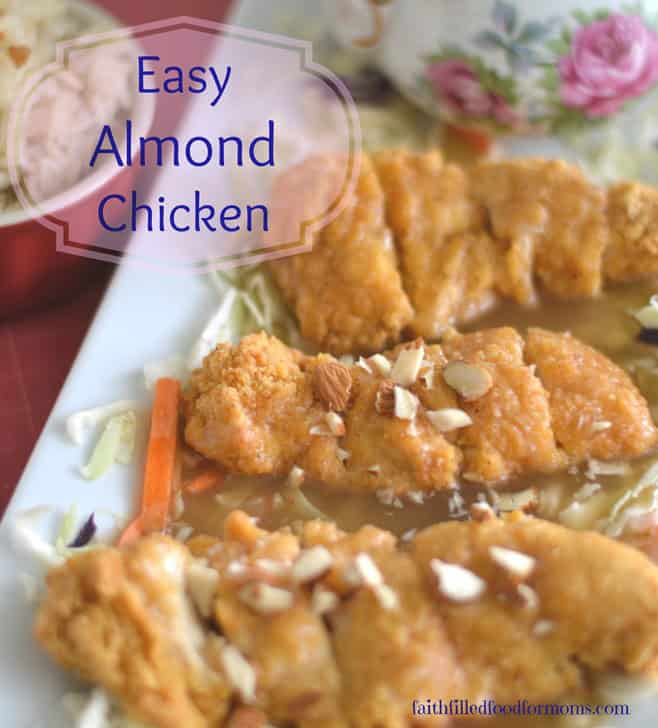 Tell me what other kinds of dishes do YOU make with frozen pre cooked chicken.
Enjoy!
More Quick and Easy Recipes:
Linking up at these great parties