---
I've been asked more than a couple of times how I go about making mass quantities of homemade hamburger patties and freezing them..ever since I created the post Cooking Your Burgers in the Oven.  So I thought is would be fun to do this super easy little tutorial and show you just how I go about making:
Homemade Hamburger Patties and How to Freeze for Later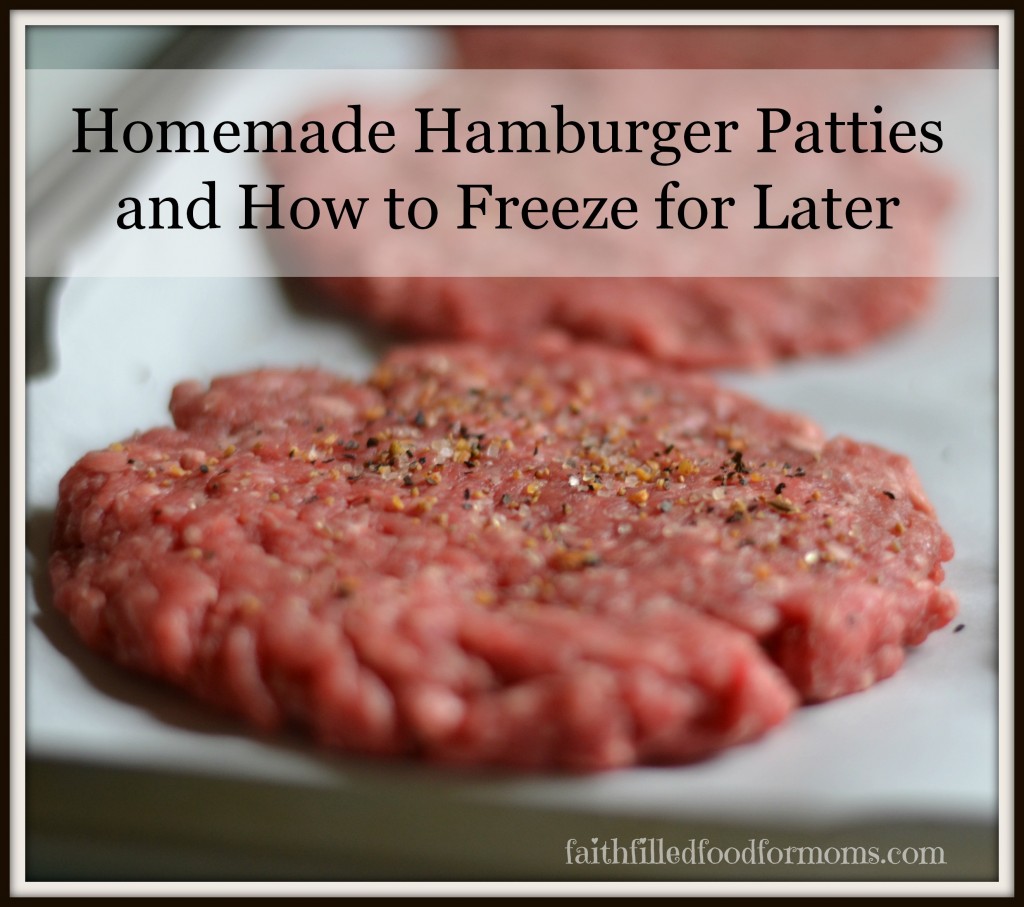 Ingredients:
Hamburger! (the best is 85/15) That means 85% lean and 15% fat

Seasonings that you and your families like

Freezer Bags

Parchment Paper

or Wax Paper

Cookie Sheet
Directions:
It is best to make Hamburger Patties with a little fat in them, hence the 85/15 ground beef.  This will bind your burger together and gives it more flavor.  I really have to remind myself this because we rarely eat high fat meats anymore.   Of course if you really must use the leanest meat you can find..that's ok too.  It just may fall apart easier during cooking.
Ok so here we go….
Put Parchment Paper down on cookie sheet to line it.  This makes for easy clean up and keeps the frozen burgers from sticking when you flash freeze.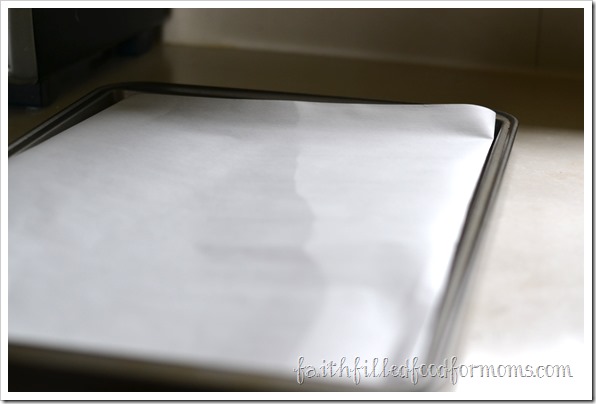 I also place Parchment Paper onto the counter or cutting board for easy clean up.  Grab up a handful of Hamburger and form into a ball.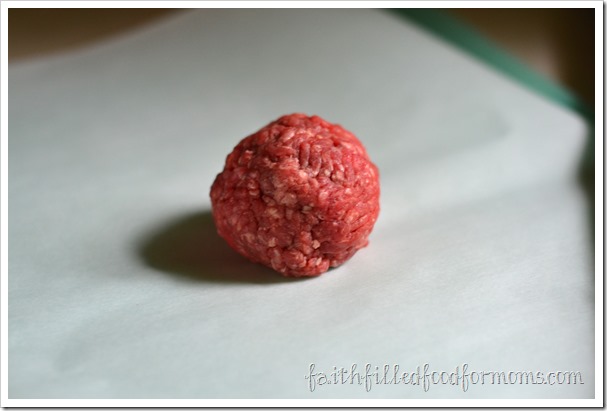 Now flatten to make your Hamburger Patties.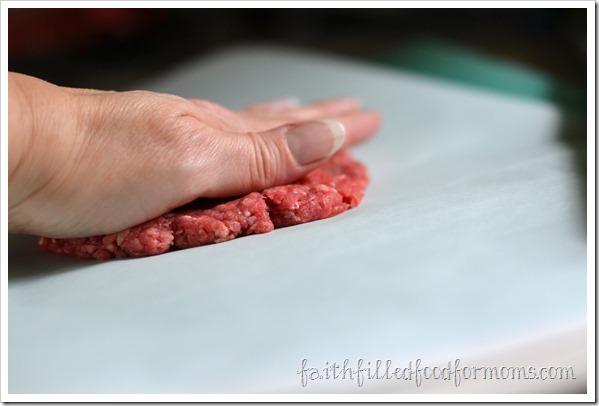 If you absolutely can't stand to touch raw hamburger meat…no problem! Get one of these handy burger patty makers.  They will also make your burgers very uniform in size!
Burger Press with Different Size Patty Molds and Non Sticking Coating, Unique 3 in 1 Stuffed Hamburger Making Tool, Designed with Innovative Patty Removing System, Discover New Tastes with Burger Art
&
Now place your burgers onto the Parchment Paper lined cookie sheet.  I like to season at this time because as the burgers thaw before you start cooking..it's kind of marinating them!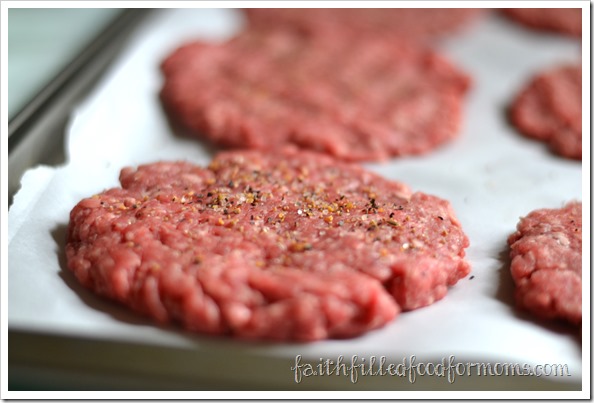 Place your burgers on cookie sheet into the freezer for about 1 to 2 hours.  There is no need to cover.  This is known as flash freezing.  It keeps your burgers as individual and from sticking together.
While the burgers are in the freezer, take a minute to cut up some of that Parchment Paper into squares.  You will put these in between the hamburgers just like the store bought ones..this totally assures that they don't stick together a bit!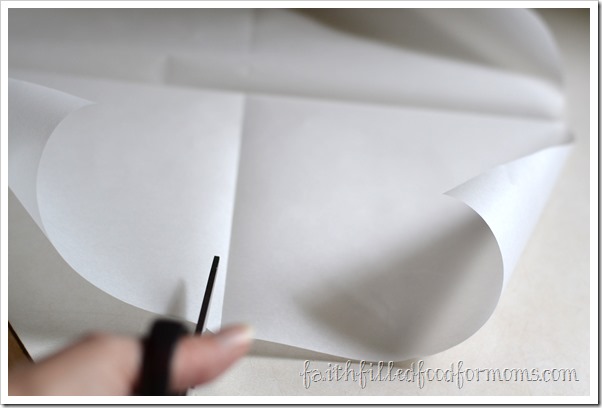 Get your burgers out of the freezer and stack them up with Paper in between.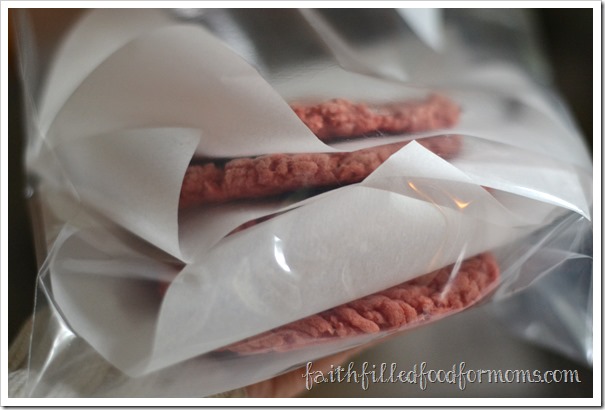 Then put them into freezer bags! 
And that my friends is all there is to making homemade hamburger patties and how to freeze for later.  This can save you tons of bucks with just a minimum of effort.  Next time you go to the store..check out the prices between the burgers that are already made and making your own. 
If you buy in bulk…then you REALLY have a big savings.  If you have never tried buying in bulk, Zaycon's is an amazing and affordable way to buy your meat in bulk!  Hormone Free too! (that was a referral link..I get $1 for everyone that orders from them…at no cost to you of course)  I have been ordering from them since they started out…excellent meat!
By the way if you wonder what else to do with all that meat?  Try these tasty recipes!  Easy Ground Beef Recipes for the Freezer 
If you are interested in doing Freezer cooking you can hop on over to the Easy Freezer Meal Ideas and Recipes page and find tons more recipes!
Recipes you can make with Frozen Hamburger Patties:
These are all included in my new little Cook Book(let)! Simple Ground Beef Recipes
More Make Ahead Meals:
Enjoy and be Blessed!