So  I know that you know we are so busy around our house (I say it enough)  and I bet you are too!   Even if you're not really busy, well who likes to clean up a messy kitchen!?  I am all about quick and easy meals that everyone will love. The other day my people were requesting burgers for dinner,  but it seemed like I had just cleaned the kitchen..again..enter, cooking your burgers in the oven!
Have you ever tried Cooking Your Burgers in the oven?
I didn't want the greasy mess of burgers..and although I had pre made frozen burgers that I had in the freezer..I still didn't want the mess of frying burgers and it was way to wet and rainy to grill on the Barbecue.  So I thought and thought how I could escape this little duty..and came up with this little idea!  Cook them in the oven.  I had no idea if this would really work..but hey..I'll try anything to get out of a little work! 
This post may contain affiliate links. Thank you for supporting our family and our website!
Cooking Your Burgers in The Oven!
Kitchen utensils, gadgets and doo dads you need for cooking your burgers in the oven:
Wire Baking Rack or Broiler Pan ~ I use these for everything…it's a much healthier way to cook because the grease goes through to the bottom of the pan and away from the meat.  The non stick racks are the best…easy clean once again.
Baker's Secret 1061483 10-by-16-Inch Nonstick Cooling Rack, Set of 2
&
Large Cookie Sheet Pan ~ Gotta have large Cookie Sheet Pans, I don't want to clean more than one pan.
Spatula ~ I love my silicone spatulas because you can use them in extreme heat or cold and they are so easy to clean!!Here is what I did..
Line a Cookie Sheet with foil..
Put the Cooling Racks/Rack on top of foil..Spray with Cooking Oil…gotta have easy clean up..
Lay out Frozen Burgers onto racks… homemade or store bought, either works great! 
Bake in oven at 400 degrees for 15-20 minutes..then turn over and Top with Cheese for an additional 5
I broiled for just a few seconds..to make them "look grilled"  😉
(Be sure and check for doneness)
That's it!  
Oh and Clean Up..
Put Racks in Dishwasher..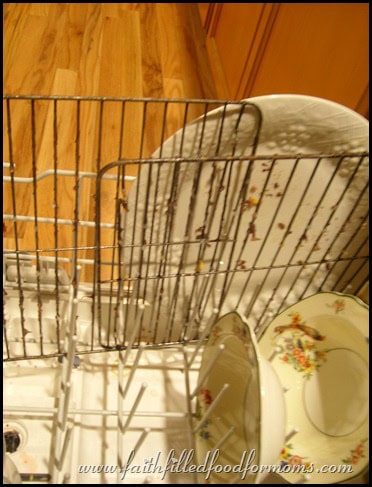 And throw foil away!
So what do you think?  It took me a matter of minutes of my time for clean up.. from start to finish.  Not including cooking time of course  🙂
Serve up those super easy burgers that you just whipped up in no time, in these fun nostalgic burger baskets.
It's the little things that make a simple meal more fun!!
&
Tablecraft 6 Piece Assorted Sandwich & Fry Basket
Checkered Deli Basket Liner, 12 X 12 Inches,
&
Pop these Garlic Roasted Red Potato's in the oven with the burgers and boom…you have a deeish meal with minimum effort!
More Ground Beef and Hamburger Patty Recipes:
You gotta try this super easy Salisbury Steak Recipe!  I make it with frozen burgers!
More Burger Recipes you'll love:
If you love to do freezer cooking here is a book I highly recommend:
(affiliate link)
Freezer Meals: Quick and Easy Money-Saving Recipes
Ok Your turn..What things do YOU do differently to keep clean up to a minimum in your busy kitchen?
If your life is super busy and in need of a little meal planning help you may like to learn: