Pizza Dough – What Else Can I Make With It?
I LOVE making Easy Homemade Pizza Recipes but have you ever wondered about Pizza Dough – What Else Can I Make With it? Here are over 15 Creative Recipe Ideas will show you different things to do with pizza dough other than Homemade Pizza's? I hope you'll LOVE these different things to do with pizza dough as much as we do!
Pizza Dough – What Else Can I Make With It?
Here is my original Italian pizza dough recipe!
Creative things to do with Pizza Dough
Homemade Calzones or Hot Pockets are a big hit at my house. Make dough, roll out as you would a smaller pizza, place desired filling in center (Do not fill clear to edge, leave about an inch at the edge for folding and pressing edges together), fold over and crimp or fold edges up! That's it!
Calzone/Hot Pocket filling suggestions:
BBQ'd Chicken or Pork Filling – shred Chicken or Pork and add Mozzarella cheese
Spinach-Ricotta Filling – Sauté onion and garlic, spinach, mozzarella, ricotta, and pizza sauce. You can add meat too if you want.
Dessert Calzone – Brie, Thinly sliced and Peeled Apple wedges and crumbled bacon. Sprinkle just a little cinnamon and sugar over apples, Sprinkle outside of Calzone with some cinnamon and sugar. Mmm
Broccoli and Chicken – Mix 1 can Cream of Chicken soup, 1 T mayo, 1/4 –1/2 tsp. curry powder, 1/4 cup Parmesan cheese, chopped chicken and chopped broccoli and mix.
Breakfast Calzone – fill with Scrambled eggs, sausage or bacon, red or green peppers, onion, cheese of your choice..you can even add hash browns.
All of these Calzones can be cooked at 375 degrees for about 20 minutes or until golden brown! These can also be frozen! Yay!
These are just some of our favorites but you can really make just about any kind of Calzone you want.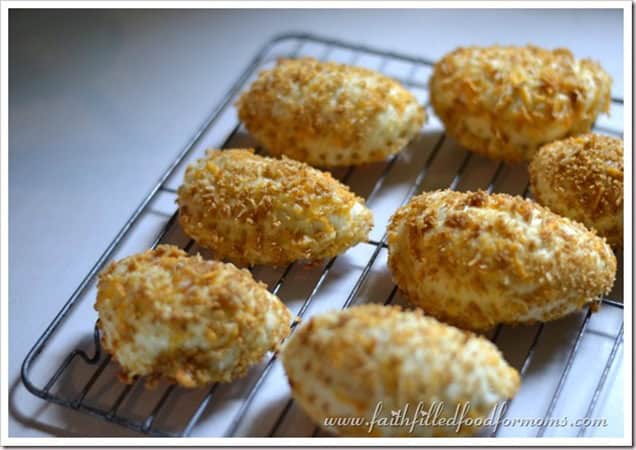 You don't really have to use Homemade Pizza dough…you can buy frozen pizza dough, bread dough or I have even used Crescent Rolls, Biscuits…really any kind of dough..
Homemade Pizza dough is sooo good though…just saying.
Bet you're wondering how do I make homemade pizza better?
When making dough you can add various other ingredients –
add fresh minced Garlic

add Parmesan, sharp Cheddar, Mexican blend cheeses

Garlic Powder..just a little

Onion Powder..just a little
Little Calzones they are usually called Empanada's
Then you can fill with all sorts of goodies:
Taco Meat..Beef or Chicken

Beans – Black Beans or Re-fried Beans – any beans (already cooked)

Cheeses

Chicken that's been cooking in Enchilada Sauce all day and shredded..Mmmm

peppers..mm..mm
Have a Pizza Party! This was the big hit at our house year after year!
Make Dough

Let the KIDS roll out there own dough

Let the KIDS put sauce, cheese and any other toppings they want on the pizza
Trust me..you and your child's party will be a hit! It also takes up a good amount of time, so that's great too! Who cares if they make a little mess..remember we are making memories here.
Ok..I can't resist one last little hint..you can put a little olive oil on the outside of crust and sprinkle LOTS of Parmesan cheese and garlic salt on it before you cook it! Mmm
More of what to do with pizza dough besides pizza
French Bread Spaghetti ~ Just use the Pizza Dough to make the bread!
So those are the things you can make with pizza dough! Enjoy!
PIN FOR LATER