---
Many days of the week we have an unexpected number teens pop over at the house after school or sports..we are walking distance from the High School my son attends.  Sometimes they are here for only little while and sometimes they stay until 9:00 at night. 
I never know how many to expect for dinner!  I can tell you however when 6 hungry teen boys come through the front door after a long day at school and a few hours of track practice..I better have something to feed them.
So how can I afford to do that?  How can I be prepared to feed this small army?  I'll tell you what I do…
I have a Top Secret Homemade Pizza Recipe!
Last night was one of those nights that my son came home bringing a bunch of friends.  I had not prepared a big dinner because I had no idea they were coming..but I was prepared.  I had plenty of fixings to make homemade Pizza!  It is sooo easy and I ALWAYS have these ingredients on hand!  You can even prepare these pizza's ahead of time and freeze.
All you need for two pizza's is:
2 Cups warm water

2 T brown sugar

2 T yeast
Whisk together and let the yeast proof..this means you let it sit and get foamy/bubbly (about 10 minutes)
Then add:
2 T olive oil

1 1/2 t salt

5 Cups flour  ( you can use any kind of flour)  If you use wheat..be sure and mix only 1/2 wheat with 1/2 white or it will be too dry.
Mix thoroughly and then knead for 5 minutes,  after kneading,  put back into bowl and cover with a cloth,  let rise for about an hour.  When done,  split dough in half and roll out 2 pizzas. 
Ok..now for my lazy secret..spread canned spaghetti sauce on top of pizza.. add Mozzarella cheese and then anything else you want.  If you would like to make your own sauce here is my deelish recipe:
Pizza Sauce
1 small can tomato sauce

1 t olive oil

1 t oregano

1 t basil

1 t salt..I don't use hardly any of this

1/8 to 1/4 cayenne pepper

1/2 t. garlic powder
This is really deelish sauce..but like I said sometimes I'm lazy
By the way…give up on making your pizza perfectly round..it takes the fun out of cooking.
Do you know how to make bread dough?  Are you intimidated by the term "knead" your dough?  If so..leave a comment..ask questions and let's take the mystery out of this time saving,  money saving idea!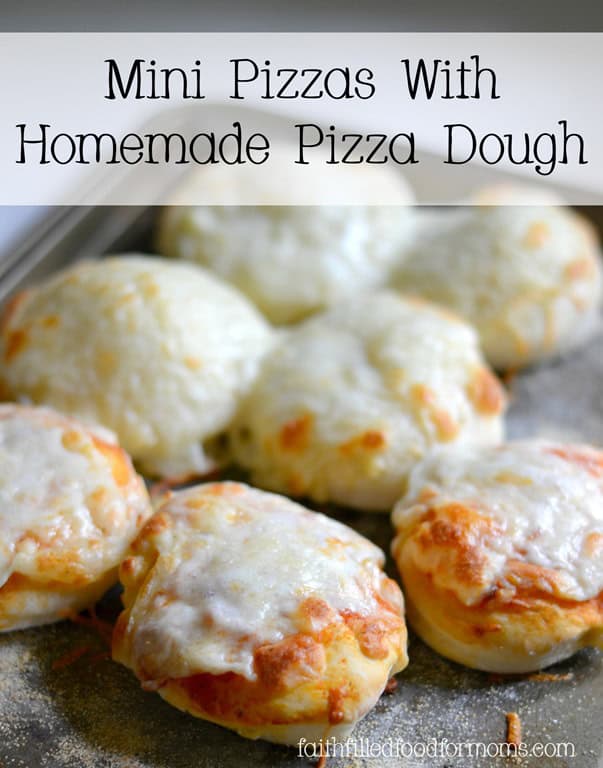 Don't forget to come back and let me know how your Pizza turned out and what else you made with the dough!
If you are wondering what kitchen tools might me helpful for making pizza, these are my all time faves:
Linking up with
these parties
!