One of my favorite ways to save money when we go on short trips for our Basketball Tournaments and even to save money on vacations….ok to just plain save money all the time, is to make up Hot Pocket Recipes.  Today I made a Pepperoni Pocket Recipe that I think you and your family will love!  That's if you love Pepperoni.
Interested in saving thousands of dollars a year?
Pepperoni Pocket Recipe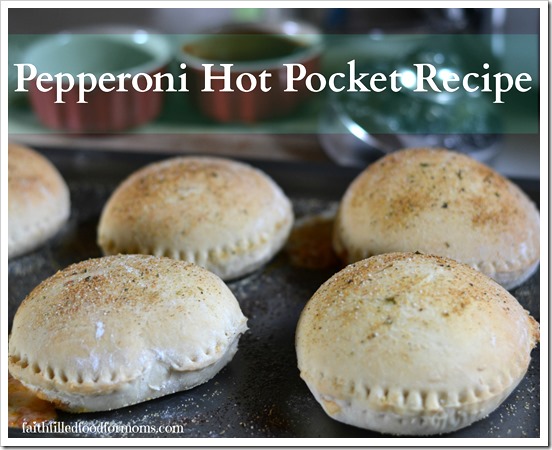 Ingredients:
Spaghetti Sauce – your family fave

Garlic Salt/Seasoning (Johnny's' is low sodium) – optional
Directions:
Plan ahead a couple of hours.  First make your Homemade Bread Dough.   After your bread dough rises make as many balls as the dough will make.  You need a top and bottom for this recipe.  Or if you want to make your dough go farther you can simply use a little bigger balls and fold over..I'll show you below… Roll out your first ball.
Then put your toppings in the middle of that piece of dough
Then put your top on. 
The Pampered Chef Cut N Seal, Large, 4-Inch
I seal the edges together with this Cut N Seal I got from Pampered Chef about a million years ago.
I love the Pampered Chef Cut N Seal because you can use it for so many things!
You can also just take a fork and crimp the edges together like the picture below..that's from when I made my Mini Bacon Cheeseburger Calzone Recipe..another yummy one to try…
anyway…
However you do it..have FUN!
Then put your Pepperoni Pockets onto a cooking sheet. 
A little cooking tip:  Use Cornmeal sprinkled on your cookie sheet when baking dough…you know like the Pizza Parlors do.  Then your dough won't stick.
Spray a very light coat of Cooking oil onto surface of Pepperoni Pockets
Sprinkle with Garlic Salt…or seasonings of your choice.
Bake at 375 degrees for 15-20 minutes.
Yum!!
Now for the fantastic part!  These are sooo easy to freeze!  Just pop them into a freezer bag after they have cooked and cooled and that's it.   Pepperoni Pocket Recipe made easy! 
For real..this is super easy and saves a bundle on the food budget!
Have a great day and be blessed! 
 Shari
Want to pin for later?
What are your very favorite Hot Pockets?
Linky up with these parties!