---
Is your budget off the charts with the economy lately?  A huge portion of our budget is food.  We have 1 tween and 2 teens (and all their friends).  So the food budget is crazy.. I had gotten into a lazy habit of buying premade snack food..because it's so easy with the amount that these kids eat.
So I decided enough is enough..I started making my own Easy Homemade Snack Food and created these Easy Homemade Hot Pockets!  If you are like our family and you need to cut back a little,  I'll be sharing a few recipes over the next week to get you started.  By the way my kids ALL gave these a thumbs up and said they were better than the store's frozen brand!  Yay!  I was quite surprised..I have a couple picky eaters.
Easy Homemade Hot Pockets
I just used ingredients that I already had on hand.
Shredded Mozzarella

Alfredo Sauce  (if you wanted you could use cream of chicken soup and minced garlic, stir in garlic and wa la!)

Johnny's Garlic Spread  ( this has pretty low sodium content but still a great taste)

Shredded Parmesan & Romano cheese

Pre cooked chicken,  cut into small chunks  (this was leftover from a previous dinner)

Homemade Pizza Dough

  (if it's easier..use store bought dough)  really it's ok

You can mix all these up together to your taste..I didn't mix I just put blops of each on my dough, up to you.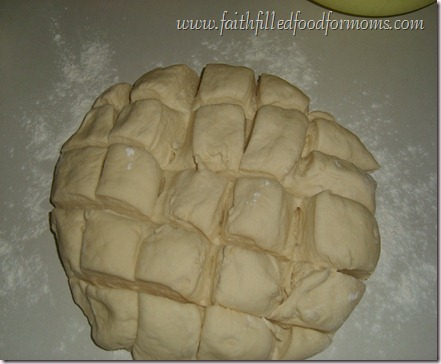 Cut into somewhat even sizes
Roll each piece into balls
Then with a rolling pin,  roll your dough out to your desired thickness..I rolled mine to about 1/8 inch thick.

Put ingredients in the middle

fold over and crimp with fork OR roll edges. 
I rolled these like a burrito..Next time I will just fold over and crimp edges because some of the filling leaked out this way. 
Cook in oven at 375 Degrees for about 20 mins.   If you want that golden brown look..like mine..just use an egg wash (1 egg whisked up with a tiny bit of water then spread on with pastry brush)  You totally don't have to do this.  They will still look great and taste great!
After you take them out of oven..cool on a rack until completely cool.  Then put into Freezer bags and freeze.   To reheat simply pop into microwave for 2 minutes (that's from frozen)
I had left over dough so I just put into a freezer bag and froze and will make more Hot Pockets when these run out..which will be in a few days!
Reader Annette shares how she used this recipe for her family..
"I made these today with a chicken bacon ranch filling. here's what I used: 3/4-1lb chopped cooked chicken, 5 slices cooked chopped bacon, 1 cup cheddar cheese, 4oz cream cheese,  1/3-1/2 cup maries lite ranch dressing, 1/2 tsp black pepper, 1/4 tsp garlic powder, 1/2 tsp dry minced onion. they came out wonderful and do not need any salt added. the 2 1/2 year old inhaled his lol!"
 Linking up with Hungry Little Girls Wednesday Extravaganza!, Melt in your mouth Mondays, Raising Homemakers , Catch a Glimpse Party , Somewhat Simple , All Things With Purpose, Tempt My Tummy Tuesdays, Titus Tuesdays, Wise Woman Link Up, WFMW, What Ever Goes Wednesday, Transformation Thursdays, Live Laugh Linky, Keep Calm and Link up, What Shakin Link Party, The Mommy Club, Marvelous Mondays, Mostly Homemade Mondays, Under $100 Linky Party, Inspiration in Progress, Hearts for Home, Thriving Thursdays, Family Fun Fridays, The Party Bunch, Anything Goes, Creativity Unleashed