---
I've been thinking about how old my kids are and how little time is left for planting seeds of Faith and Joy into their hearts.  One of my kids takes their lunch to school and one doesn't so I love leaving lots of fun notes around the house, in there sports bags and lunch box! I made this set of encouraging lunch box notes for kids …. for those with a little bit younger kids.
Printable Lunch Box Notes for Kids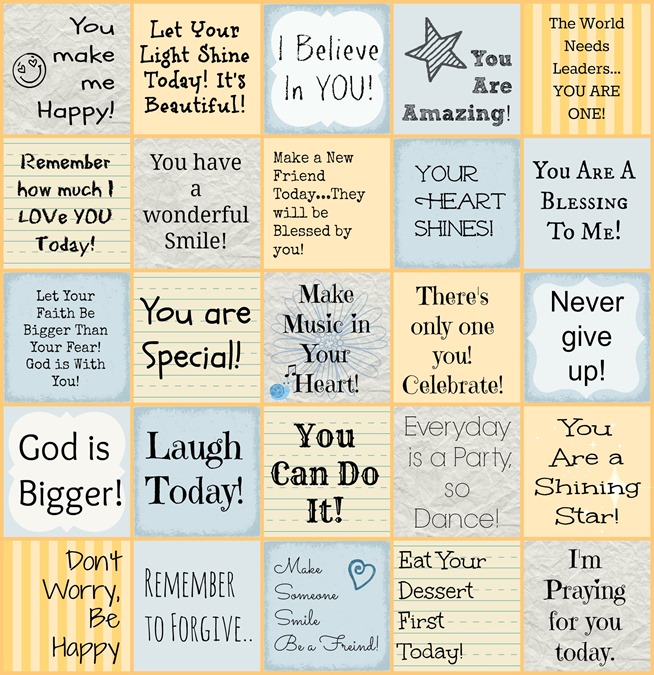 There are lots of fun ways to encourage our kiddos even when we are not with them.  The lunch box is one way to "show up" and make a day special.
I LOVE these cute little Sandwich Cutters! They would be so perfect with these fun notes! Have the kids help and they will be more likely to eat them.
CuteZCute Animal Friends Food Deco Cutter and Stamp Kit
I will be creating new printable lunch box notes for kids through out the year!  So stay tuned. Give frequently..because it really does matter… even if you homeschooling.
Ok so I'm going to add these cute lunch boxes to my all time favorites for kids.  I had really never heard the name Bento Box BUT I love this type of lunch box.  I work in the lunch room at our school and it's kind of sad when kids are bummed out because one kind of food is touching another kind of food…or because it's too warm and they wanted it cold etc.
We want our kids to eat and be happy about it…right.
Bentgo Kids – Leakproof Children's Lunch Box
YUMBOX MiniSnack Leakproof Snack Box (Cherie Pink)
Pack fun lunch and add a sweet lunch box love note and you'll have smiley kids all day.
Encourage one another and build each other up…that includes those baby dolls!
More Lunch Box Love Notes!
Need some Kid Friendly Recipes for those lunches and breakfasts?!
Linking up with:  these great parties!