Printable Encouraging Lunch Box Love Notes for Kids
I've been thinking about how old my kids are and how little time is left for planting seeds of Faith and Joy into their hearts. They grow so fast that I need to find quick easy ways to bless them. Using these Printable Encouraging Lunch Box Love Notes for Kids to encourage our kids is just one of the many ways that I love to fill their bucket.
I sneak them into their backpacks, sports bags, under their pillows and of course their lunches! All of these sets can be used for boys or girls!
The lunch box is one way to "show up" and make a day special for your kids while they are away all day long.
Some super fun foods to add to your lunch box might be French Toast Waffles, Pie Crust Pop Tarts, Homemade Bagel Bites…YUM!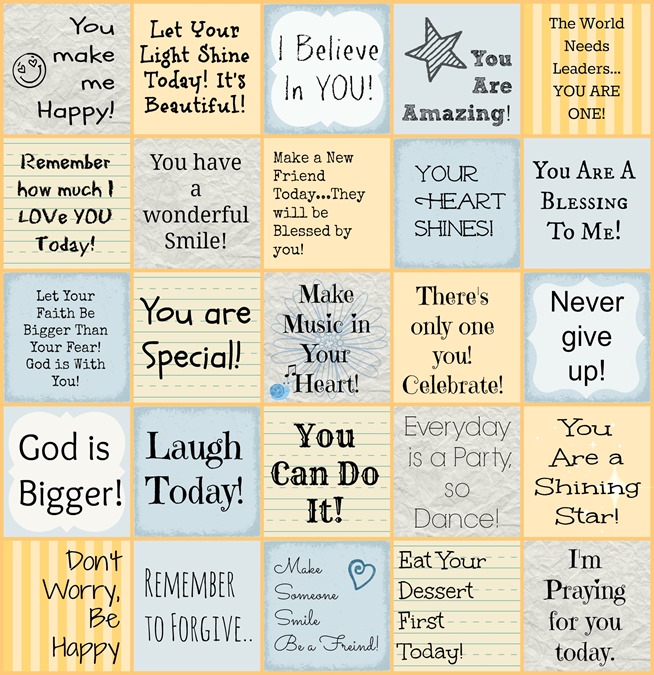 Printable Lunch Box Notes for Kids
Simply click the picture and then print!
If you want to jazz up your little ones lunch even more…I LOVE these cute little Sandwich Cutters! They are perfect with these fun lunch box notes! Have the kids help and they will be more likely to eat their lunch.
By the way…you don't have to make a fancy lunch every. single. day! It ceases to become special then AND it's too overwhelming for us Moms.
VonShef Fun Cake, Cookie
CuteZCute Animal Friends Food
StarPack Kids Sandwich Cutter
SASRL Sandwich and bread
&
I work in the lunch room at our school and it's kind of sad when kids are bummed out because one kind of food is touching another kind of food…or because it's too warm and they wanted it cold etc.
Want to ensure that your kids are eating their lunch everyday at school? I wrote a post about this, because I worked in a lunch room for a couple of years…catch the secrets your kids aren't telling you with their lunches!
I had really never heard the name Bento Box BUT I love this type of lunch box and I've seen the kids eat WAY more because of them.
Kids need EASY…trust me, their time is limited in the lunch room and if they have to mess around too long with a lunch box…they've lost precious eating time before it's time to head out to recess.
Bentgo Kids – Leakproof

YUMBOX MiniSnack Leakproof Snack

&
&
Pack a fun lunch and add a sweet lunch box love note and you'll have smiley kids all day.

Little Bento: 32 Irresistible Bento Box Lunches for Kids
Just in case you think you might run out of Bento Box ideas for your kids lunch box…check out this super cool Bento Box book!
Here are some more Lunch Box Love Notes:
click the pic
Some of the yummy foods that I like to put into my kiddos lunch box are:
Encourage one another and build each other up…that includes those baby dolls!
More Lunch Box Love Notes!
Need some Kid Friendly Recipes for those lunches and breakfasts?!
Linking up with: these great parties!