11 Easy Homemade Teacher Appreciation Craft Ideas
In my opinion Teachers have the hardest job in the world. Teacher appreciation week runs from Monday, May 2nd till Friday, May 6th this year 2022. I'd love for you to be able to find easy ways for you to be able to say "Thank You!" Sometimes it's hard to come up with creative ways to appreciate our Teachers. I think you'll agree that these 11 Easy Homemade Teacher Appreciation Craft Ideas will be a special touch for saying thanks!
Why do we celebrate teacher appreciation week? Most of us have no idea how much time, love, preparation and yes even their own hard earned money that goes into a teaching job. I work at a school as a Paraprofessional and was a Principal's daughter so after many, many years I know what makes perfect teacher gifts! 
Having friends as Teachers and helping in classrooms I can tell you Teachers deserve to be THANKED and I know what makes the perfect Teacher gifts!
What Makes A Great Teacher Gift
Give something useful ie. special scissors, special pens (I LOVE these erasable pens!) etc.
Give something from the heart. Don't just give for the sake of giving. Teachers LOVE a thoughtful gift.
Give a donation to the classroom. Books, Scholastic Dollars, Anything the whole class can use.
Give something personalized. Cute T~shirts, Coffee mugs, Cold drink cups, Tote bags!
Give some pretty flowers or a plant with a handmade printed card. (below)
Here are just a few easy DIY homemade Teacher Appreciation craft ideas that I have gathered from across the internet to at least wet your whistle and get that creativity going! 
11 Easy Homemade Teacher Appreciation Craft Ideas
I have a few fun homemade craft ideas for your favorite Teacher too and Thank you to all the other creative gals across the internet!!
Printable Teacher appreciation Gift Tags for plants ~
As you can see from the picture above, these super cute printable gift cards are perfect to attach to any plant or bouquet of flowers for your favorite teacher. It's a perfect way to say "Thank you for helping me bloom this year!"
Print these cute Teacher Appreciation Gift Tags and use them on a simple but pretty little plant or some flowers. Your Teachers will LOVE them!
Apple Gift Paper Sack
This is so CUTE and so totally easy! Apple Gift Paper Sack is made by Skip to my Lou! Fill it with Homemade Toffee Crunch or Homemade Caramel Corn Popcorn… and Wal-la…Done…teacher appreciated! Ok I just gotta make this!
Homemade Notepads for Teachers
These awesome Notepads for Teachers were made by How Does She but shared on Skip to my Lou. Very easy and inexpensive! Its one of those super easy teacher appreciation crafts that could be made for more than one teacher because you make many at once!
Thanks A Latte' for all you do Teacher Gift
Since this is a pretty old post and I'm just now updating it, some of the old links are not even available anymore or the blogs have since shut down. The below Starbucks or really any coffee stand would be a super appreciated and fun homemade craft ideas!
I've made this cute "Thanks A Latte' for being an AMAZING Teacher" before! Super simple, see list below for all you need to make this cute gift.
Thanks A Latte' Teacher Appreciation Gift
BROWN PAPER (YOU CAN USE A PAPER BAG)
WHITE TISSUE PAPER FOR WHIPPED CREAM TOPPING
CUTE TWINE STRING TO TIE ON GIFT CARD
Soda Pop Teacher Appreciation Gift
This soda pop printable makes a perfect and creative one of those crafts for teachers that they will love! This idea is from Tammy Mitchell Designs but I'm afraid this website and printable is no longer find this online. I may make one for you though, so come back soon or sign up for our newsletter so keep up to date on this one!
Creative Juices Teacher Appreciation Craft Idea
This totally cute homemade teacher gifts from Tatertots & Jello! Super easy and would take very little effort to pull together. Use a cold drink cup and fill it with skittles or any colorful candy and insert a Jamba Juice or any Juice Stand card!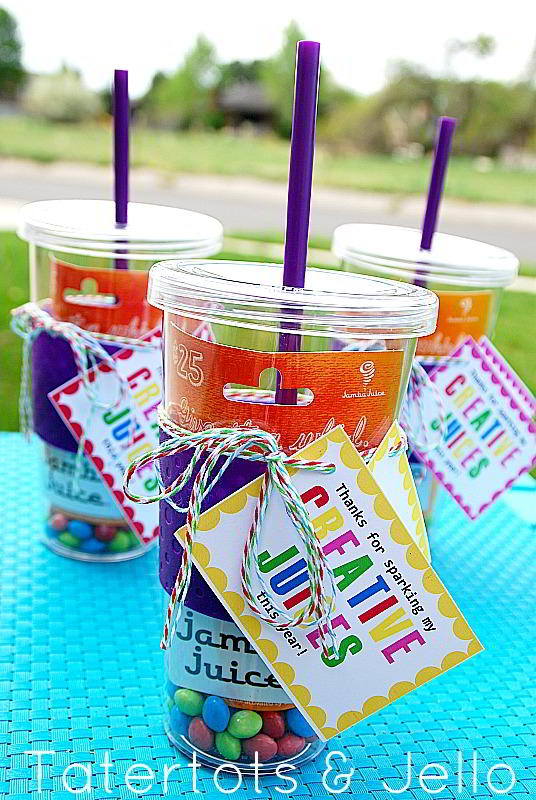 Handmade Easy Thank You Card for Teacher
Ummm can you tell I love coffee…another CUTE idea with printable! Thank you Girls from Eighteen25! This is not as complicated as it looks! One print and a coffee sleeve…that's it!
So simple and yet so cute..thank you Creative Design
Awesome Free Subway art by Balancing Home!
Teacher Appreciation Poster Idea
Easy Sucker Bouquet Teacher Appreciation Craft
Ok so this say's for Valentine's Day but I thought it was soooo cute and I think you could totally use it as a Thank You for Teacher! By Kimber @ The Pinning Mama
A new one I just found by Sarah Mock @ How I Pinch a Penny! Too cute and sooo inexpensive!
If Crafting is not your thang, then you could easily buy a little something like these inexpensive gifts below. I mean every being a Teacher is definitely a Super Power don't you think!! This Coffee Mug is a fantastic Thank you! (affiliate links)
This is a super cute book that I happened to stumble upon on. I think any teacher would appreciate the kindness in this book!
No matter what you choose to do…
LOVE THOSE TEACHERS!