---
So  I know that you know we are so busy around our house (I say it enough)  and I bet you are too!   And even if you're not really busy, well who likes to clean up a messy kitchen!?  The other day my fam was requesting burgers for dinner,  but it seemed like I had just cleaned the kitchen..again..enter, cooking our burgers in the oven!
I didn't want the greasy mess of burgers..and although I had pre made frozen burgers..I still didn't want the mess of frying burgers and it was way to wet and rainy to grill on the Barbeque.  So I thought and thought how I could escape this little duty..and came up with this little idea!  Cook them in the oven.  I had no idea if this would really work..but hey..I'll try anything to get out of a little work! 
Have you ever tried Cooking Your Burgers in the oven?
Here is what I did..
Line a Cookie Sheet with foil..
Put Cooling Racks
 on top of foil..Spray with Cooking Oil..easy clean up..
Lay out Frozen Burgers onto racks..
Bake in oven at 400 degrees for 15-20 minutes..then turn over and Top with Cheese for an additional 5
Oh and I broiled for just a few seconds..to make them "look grilled"  😉
(Be sure and check for doneness)
That's it!  
Oh and Clean Up..
Put Racks in Dishwasher..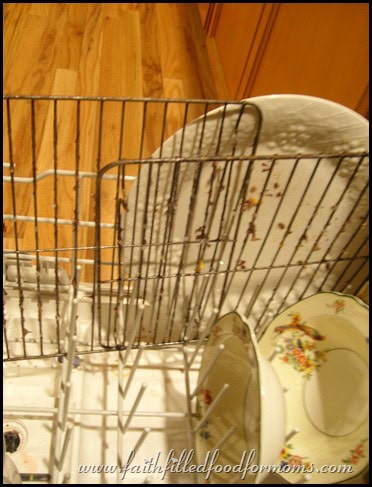 And throw foil away!
So what do you think?  It took me a matter of minutes of my time for clean up.. from start to finish.  Not including cooking time of course  🙂
More Ground Beef and Hamburger Patty Recipes:
How you can make your own Homemade Hamburger Patties and freeze for later?
Or try these yummy recipes for a super easy dinner made with frozen burgers:
If you love to do freezer cooking here is a book I highly recommend:
(affiliate link)
Freezer Meals: Quick and Easy Money-Saving Recipes
Ok Your turn..What things do YOU do differently to keep clean up to a minimum in your busy kitchen?