---
I was given a copy of Jesus, the One and Only by Shelton Interactive.  All opinion's are 100% mine..there is one affiliate link..full disclosure
Where does one start when reviewing a book or Bible Study written by Beth Moore?!  Word of caution..this review is totally biased…because I am a HUGE fan of Beth Moore!  LOL   I have done so many of her studies and read so many of her books,  that truly…there is nothing that is not published that I don't try to get my hands on written by her..and Jesus, the One and Only is no exception.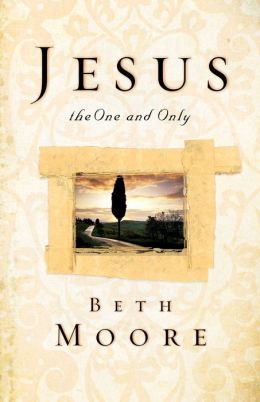 When I was asked to review Jesus, the One and Only written by Beth Moore I was totally honored, humbled and sooo excited.   It's not just the books and studies she writes…it's the heart behind it…she LOVE's Jesus and she LOVE's women AND she loves God's Word…  Beth Moore is an excellent Bible Teacher and is on several television programs, including Life Today with James Robison (Wednesdays with Beth)  and is heard worldwide on two internet radio programs (A Quick Word and Living Proof with Beth Moore)
If you have not read any of Beth Moore's books or done any of her studies..I encourage you to begin here with Jesus, the One and Only.
What is the most important part of your walk with the Lord?  For me it's knowing Him…knowing His will for me..obeying Him and walking with Him daily.  One of the most amazing ways to know these things is to know His son,  Jesus Christ…the One and Only.  If we want to know Jesus more..we need to study Him..His heart..His Character..because Jesus points directly to the Father…
Beth Moore does an amazing job inviting us to "know" Christ more personally as we read and study His amazing life here on earth. 
"He is Jesus, the One and Only, transcendent over all else," writes Beth Moore. "To know Him is to love Him.  To love Him is to long for Him.  To long for Him is to finally reach soul hands into the One true thing we need never get enough of…Jesus Christ.  He's all you need."
Yes my friend…this is an amazing book..a must read..a great place to know Jesus the Christ more intimately…or for the first time..
Jesus, the One and Only is available for the first time in paperback…
What about you…what is the most important aspect of your relationship with the Lord? 
If you don't have a relationship with Jesus…what keeps you far from Him?